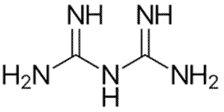 Name this structure, and what plant was it first isolated from?
Biguanide. The identification of guanidine and related compounds in the French Lilac plant (Galega officinalis L. ) led to the development of biguanides, such as metformin.
Perla V et al. Biguanide related compounds in traditional antidiabetic functional foods. Food Chem 2013; 138(2-3): 1574-1580.
Submitted by: Michael Hodgman, MD on behalf of the Herbal and Dietary Supplement Section