NACCT is an annual conference that allows physicians, pharmacists, nurses, and scientists from around the world to participate in the sharing of knowledge on a wide variety of clinical toxicology topics and issues. In addition, the congress includes presentation of original research papers, a number of symposia, as well as other traditional and novel continuing education sessions.  Past sessions have taken us to Boston, San Francisco, New Orleans, Las Vegas, Atlanta, and Washington, DC.
Join us from October 11-15, 2017 in Vancouver, British Columbia for the next NACCT!
The Pre-Meeting Symposia will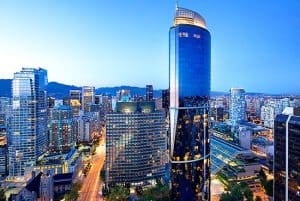 be on October 11-12 and the Main Congress will be on October 13-15. Get ready by downloading or updating the 2017 meeting app now (see instructions below).
The meeting will be held at the Sheraton Vancouver Wall Centre – located in the heart of downtown –  Book your room NOW!
Don't miss an important date – see the NACCT 2017 deadlines  and add Contemporary Forums (cforums.com) as a safe-sender to your email to be sure you receive the latest information.
Save the date for NACCT 2018 in Chicago at the Hyatt Regency Chicago. The Pre-meeting Symposia will be held on October 25 – 26, 2018 and the Main Congress will be on October 27-29, 2018!
Meeting Schedule
NACCT Full Meeting Brochure
Poster Information
NACCT Hotel Information
NACCT 2017 will be held at the beautiful Sheraton Vancouver Wall Centre. Group rates are available until September 9, 2017. 
Mobile App
Make sure to keep the NACCT mobile app on your phone with notifications enabled for important NACCT reminders throughout the year!
To update to the 2017 version of the mobile app, open the app on your mobile device and select the dropdown menu on the upper left of the screen. Next, tap the settings icon (on iOS devices, the sprocket icon in the upper right corner of the screen) and select, "Back to All Events". Select the NACCT
2017 banner, and allow the app to download and install the NACCT 2017 data.
Post Meeting Information/After the Fact CE
Maximize your investment in NACCT and view educational sessions that you were unable to attend during the meeting online through the PROLibraries website! 
Your PROLibraries login will give you access to the available CE credit and recorded educational sessions presented as part of the recent NACCT meetings you have attended (San Francisco in October, 2015 and Boston in September 2016). For technical assistance, please contact the Support Desk online or by phone (877) 796-1325. For questions about NACCT or continuing education credit, please contact Nakera Dumas at the AACT central office by email or by phone (571) 488-6000.
Dates and locations of past NACCT
2016 – September 12-16, Boston, Massachusetts
2015 – October 8-12, San Francisco, California
2014 – October 17-21, New Orleans, Louisiana
2013 – September 27-October 2, Atlanta, Georgia
2012 – October 1-6, Las Vegas, Nevada
2011 – September 21-26, Washington, DC
2010 – October 7-12, Denver, Colorado
2009 – September 28-October 3, San Antonio, Texas
2008 – September 11-16, Toronto, Ontario, Canada
2007 – October 19-24, New Orleans, Louisiana
2006 – October 4-9, San Francisco, California
2005 – September 9-14, Orlando, Florida
2004 – September 9-14, Seattle, Washington
2003 – September 4-9, Chicago, Illinois
2002 – September 24-29, Palm Springs, California
2001 – October 4-9, Montreal, Quebec, Canada