#NACCT2019 will be held in
Nashville, Tennessee 
Renaissance Nashville Hotel 
Sept 23-27, 2019

NACCT is an annual conference that allows physicians, pharmacists, nurses, and scientists from around the world to participate in the sharing of knowledge on a wide variety of clinical toxicology topics and issues. In addition, the congress includes presentation of original research papers, a number of symposia, as well as other traditional and novel continuing education sessions. 


Follow #NACCT2019 on Twitter to join the conversation! 
Keynote Speaker
Broken: My Story of Addiction and Redemption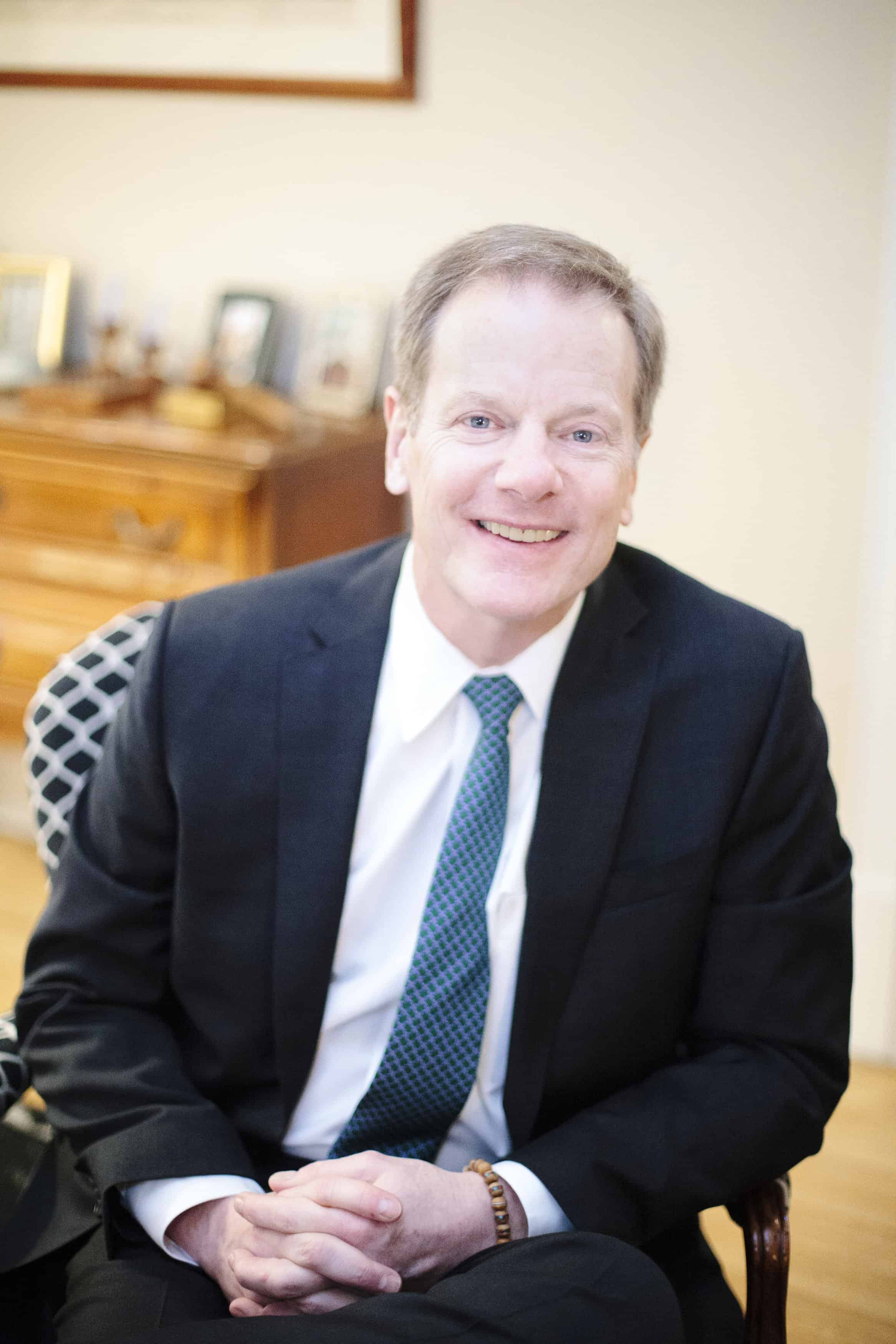 William C. Moyers has spent his career helping people who are just like him.  People who struggle to overcome the deadly grip of addiction to dangerous substances.  He uses his own life's experiences to highlight the power of addiction and the promise and possibility of recovery from it.  As a national advocate for the renowned Hazelden Betty Ford Foundation, Moyers carries the message of hope, help and healing to audiences everywhere and has appeared on Oprah, Larry King Live, Good Morning America and National Public Radio.  His memoir has been a New York Times best-seller.  Now he shares his story with us, but does so in the context of the opioid epidemic that has affected everyone.  Moyers offers his insights in how best to help somebody access treatment, what to look for in considering treatment options and what it really means to recover from this chronic illness. 
Abstracts - Deadline April 29!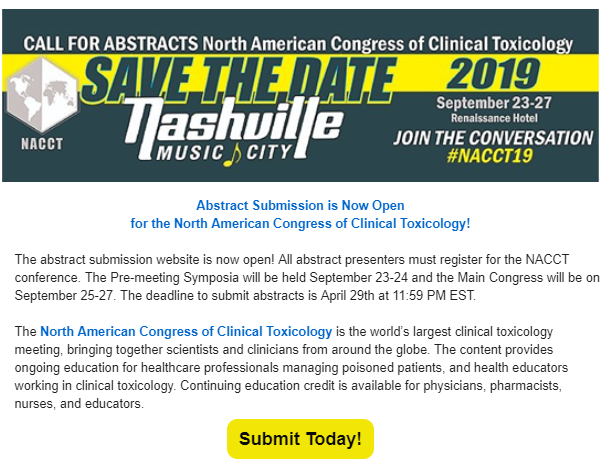 NACCT Deadlines
| | |
| --- | --- |
| 2019 | |
| 1/24 | Call for abstracts and opening of abstract submission program |
| 2/15 | Proposals for scientific sessions (and AACT funding requests) due |
| 2/15 | Scientific session organizer disclosure forms due |
| 3/1 | Notification of acceptance/rejection of scientific session proposals |
| 4/1 | Scientific session speakers identified and confirmed to Contemporary Forums |
| 4/22 | NACCT Registration Opens |
| 4/29 | NACCT abstract submission due by 2400 PST |
| 5/6 | Business meeting requests due |
| 5/24 | All Speakers confirmed and submitted to Contemporary Forums |
| 6/3 | Abstract Acceptance/Rejection notices sent |
| 6/10 | Speaker disclosure forms sent |
| 6/24 | Final Schedule Posted with all sessions on Clintox website |
| 7/3 | Speaker disclosure forms /CV due |
| 8/12 | Early Bird Registration Closes |
| 8/26 | Food/Beverage and AV requirements due for Business meetings |
| 8/30 | Speaker Power Point slides due to Contemporary Forums |
| 9/22 | Advanced Registration closes |
| 9/23-27 | NACCT 2019 Renaissance Nashville, TN |
NACCT Hotel Information
NACCT 2019 will be held at the
 Renaissance Nashville Hotel. 

Reservations Toll Free: 877-901-6632
Reservations Local Phone: 615-255-8400
2018 NACCT Meeting Information
2018 NACCT Post Meeting Information/After the Fact CE
Maximize your investment in NACCT and view educational sessions that you were unable to attend during the meeting online through the PROLibraries website! 
Your PROLibraries login will give you access to the available CE credit and recorded educational sessions presented as part of the recent NACCT meetings you have attended (San Francisco in October, 2015 and Boston in September 2016). For technical assistance, please contact the Support Desk online or by phone (877) 796-1325. For questions about NACCT or continuing education credit, please contact Nakera Dumas at the AACT central office by email or by phone (571) 488-6000.
Mobile App
Download the Attendee Hub Mobile App from the Apple or Google Play stores so you can stay current with real-time conference updates and notifications. Search "Crowd Compass Attendee Hub" in your provider's app store. Once you have downloaded the Attendee Hub app you can do a search for NACCT.  You will find a complete schedule, full-text abstracts, speaker handouts, and additional conference information all only a tap away. After you download the app, you will login using your email address and a verification code will be emailed to you.  You can also access the app by going to https://crowd.cc/nacct18. 
Dates and locations of past NACCT
2018 – October 25-29, Chicago, Illinois 
2017– October 11-15, Vancouver,British Columbia 
2016 – September 12-16, Boston, Massachusetts
2015 – October 8-12, San Francisco, California
2014 – October 17-21, New Orleans, Louisiana
2013 – September 27-October 2, Atlanta, Georgia
2012 – October 1-6, Las Vegas, Nevada
2011 – September 21-26, Washington, DC
2010 – October 7-12, Denver, Colorado
2009 – September 28-October 3, San Antonio, Texas
2008 – September 11-16, Toronto, Ontario, Canada
2007 – October 19-24, New Orleans, Louisiana
2006 – October 4-9, San Francisco, California
2005 – September 9-14, Orlando, Florida
2004 – September 9-14, Seattle, Washington
2003 – September 4-9, Chicago, Illinois
2002 – September 24-29, Palm Springs, California
2001 – October 4-9, Montreal, Quebec, Canada