November 23, 2021
November is a month to reflect and give thanks for the bounty in our lives and the sacrifices of our active duty and veterans in the Armed Services. When times are uncertain, you can find strength in the knowledge that your community is here to support you. Because of this, Autumn is my favorite time of year because everyone gets back to work and school; football begins; the World Series; the leaves on the trees turning into beautiful yellows, reds and oranges; and the secular and religious Holidays are abundant and back-to-back.  Many of my neighbors have already smothered their homes and yards with decorations in preparation for December.
It's been a month since NACCT and everyone should have obtained their continuing education credits. Soon the conference and symposia will be transferred over to the AACT website for further viewing. I am thankful for Chris Hoyte, the Meeting Priorities team, our partners the AAPCC, and a cast of thousands for producing a successful virtual NACCT on short notice. I feel confident NACCT 2022 will be extra special. I can't wait to see you all there in San Francisco next September 14-18.
The AACT is continuing to expand and diversify our activities this fall. There will be more webinars coming soon and the membership mobile app allows you to connect with your friends and colleagues across the country and collaborate.
The mentors have started meeting with the mentees in the Tox Coach program. It is refreshing to interact with new graduates and work with them in achieving their goals. If you are interested in participating in this program, mark your calendars for July 2022, when the program will accept new mentors and mentees again.
There also was a call for volunteers in the areas of the membership committee, public relations committee and our new TOXISMO society. These and many other opportunities are available here. The AACT is an organization that is truly run by and for its members. We want your talents, and this is your chance to make a difference and gain experience as a national leader.
Many AACT members have also gained national leadership skills while serving our country in the military. The Academy has benefitted from their abilities on the Board of Trustees. See their pictures and stories on the AACT homepage.  I feel like my words can't thank them and their families enough. If you are active duty or a veteran send us your picture and a paragraph about what your service means to you. We will post it on the AACT website. Thank you all for your service to the United States and the AACT.
I hope you enjoy your Thanksgiving with your family and friends. Prepare and eat something delicious, help clean up, and then let that wave of tryptophan wash away your stress. If you happen to go outside to rake up those beautiful leaves watch out for these fall colors without a rattle. It's still snakebite season in Virginia.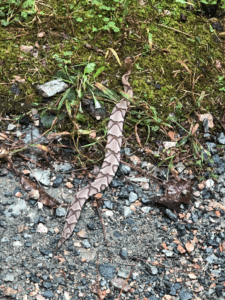 In your service,
Kirk Cumpston, DO
AACT President