Mark Thoman, MD, passed away in Tucson, Arizona, on September 15th, just as NACCT was getting underway in San Francisco. This is a memorable description of Mark's dedicated lifetime as a pediatrician and his role in the remarkable founding efforts of AACT, AAPCC and ACMT.
Mark grew up in Chicago, moving to Independence, Missouri, at age nine, where he attended high school and then enlisted in the U.S. Marine Corps. Continuing in the reserves, Mark attended and graduated from Graceland Junior College, the University of Missouri and the University of Missouri School of Medicine.
In 1965 after completing his pediatric residency in Des Moines, Iowa, Mark entered the U.S. Public Health Service, starting in Washington, DC, serving as a pediatric consultant and journalist for the Poison Control Branch. Transferred to the Indian Health Service, Mark served as Chief of Pediatrics of the Navajo hospital in Shiprock, NM.
In 1967 Mark moved back to Des Moines where he practiced pediatrics for 30 years. Mark started and directed a Cystic Fibrosis Clinic. Most importantly, Mark served as the founding medical director for the Iowa Poison Control Center associated with Children's Hospital that is now located in Sioux City.
Mark collaborated with other physicians in founding the AACT in 1968; and, served as an editor of Clinical Toxicology as well as President of AACT. He also helped sponsor the original American Board of Medical Toxicology, later organized as the American College of Medical Toxicology, now a recognized subspecialty of the American Board of Medical Specialists. Mark was instrumental in founding several other medical associations and programs; and, authored hundreds of journal articles on toxicology and pediatrics. Mark was also the photographer for NAACT events for decades and turned over three boxes of photographs and records to AACT 10 years ago.
Mark also had a love of aviation, becoming a private pilot and aircraft owner, that led to s consulting to the FAA and being a faculty member of AME courses. And, Mark also served as president of the Flying Physicians Association. In addition, Mark was a reviewer for other federal agencies, the DOD, FDA (Childhood Vaccine Safety), NIH (National Library of Medicine) and CDC. Mark joined the U.S Naval Reserve in 1988, becoming a Flight Surgeon, Captain, and served aboard the aircraft carrier, the USS Abraham Lincoln.
Mark was proud of his Greek heritage, Mark's mother was Tasula Petrakis Thoman, a Greek immigrant and his father, John Charles Thoman, was an artist from Texas.
Mark married the love of his life, Theresa Thompson, in 1984. After many happy years in Johnston, Iowa near Des Moines, Mark and Theresa relocated to the Pacific Northwest and ultimately to Tucson, Arizona in 2021. Preceded in death by his parents, his sister Barbara Curtis, and his daughter-in-law, Lynn (Ed) Thoman. Mark is survived by his wife,
Theresa (Thoman) Thoman, sisters Elizabeth (Nikki) Fisher and Lea Acord, along with six children and nine grandchildren and five greatgrandchildren. Services were held at the Holy Resurrection Antiochian Orthodox Church in Tucson on September 19, 2022.
AACT has recognized Mark with a Career Achievement Award. We will all miss Mark, while recognizing his founding and operational contributions to toxicology.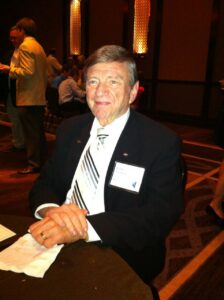 Submitted by Tom Kurt, MD, MPH, FAACT